Activated Sludge Microbiology Poster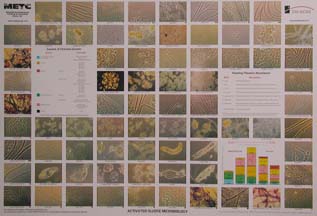 This 39 in. by 27 in. color poster was developed by Rick Marshall, METC Group and Michael Richard, Michael Richard Wastewater Microbiology, using a photo library of over 100,000 photomicrographs and their combined experience of over 50 years in troubleshooting activated sludge. The poster includes:
- Filaments: Photos of 24 major filaments plus their staining reactions where appropriate. Use these photos to help identify filaments present in your sludge. There are color coded boxes beneath each filament photo keyed to the Table of Filament Causes.
- Ranking Filament Abundance: Photos illustrating the seven filament abundance categories and a descriptive table of these categories.
- Assessing Filament Damage from Chlorination: Photos illustrating the varying degrees of damage when adding chlorine for short-term filament control.
- Determining Floc Structure: A set of photos to help determine the type of floc present in your sludge: good sludge, inter-floc bridging, open-floc structure, pin floc, dispersed growth and dispersed filaments.
- Reverse India Ink Stains: Photos to help you assess normal versus elevated polysaccharide in the flocs to evaluate nutrient deficiency.
- Signs of Septicity: Photos of bacterial indicators of septicity/organic acids including: zoogloea, Flexibacter, Spirillum, Spirochaete and Hyphomicrobium.
- Protozoa and Metazoa: Examples of commonly found protozoa and metazoa plus a bar graph relating their significance to sludge age and process conditions.
- Nitrifiers: A photo of both Nitrosomonas and Nitrobacter, commonly found nitrifying bacteria.
Cost of the poster is $75 (USD) which includes shipping and handling for North America. Cost for shipping outside North America dependent on US postal rates to that location. Payment is by check or credit card. Use the order form by clicking on the order form link below.
BUY ONE TODAY - YOU MAY NEED IT TOMORROW!
" Copyright, METC Group, All rights reserved.